Linking up again with
Erin
and
Amy's
Thankful Thursdays!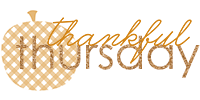 Thankful this week for ...
1) The Christmas season:
I love this time of year and am planning to put up my tree this weekend.
2) My car:
It's had some issues this year and I'm just glad it still gets me where I need to go ... at least for the time being.
3) A warm house:
We've already had some cold days in the Midwest and I'm grateful every time I step into my house and it feels warm and cozy.
4) Laughter:
Fun times with friends are good for the soul.
5) Writing:
I've taken a little break from writing and am grateful to have a post up at
iBelieve
today.